how's everybody?
I'm afraid i've fallen off the 'get fit – lose weight' bandwagon again. Although i'm not so sure. I'm actually very confused to whether i am still on or i'm off. That piece of chocolate i just had just made the gray area even grayer. It never used to be this difficult. I started my weight loss journey in January. Normally, the YOUNGER version of me wud be at least 5kgs lighter by now. I think i've only lost about 3 and I gained it all back last week when i caved into my pms slumber. it was so good though.
It could also be that I am just getting bored with Bikram. I mean.. it does get very routine and it's not like there's a personal trainer to guide you through the postures, so sometimes in class you're more than welcome to cheat. when i feel like i don't want to work hard i'd move all the way to the back of the class to tell my body to take it easy. Anyway, I haven't given up on myself yet. I've hired a personal trainer to get me back on track.
other than that, i havent got much else going on. just struggling to stay away from chocolates and online shopping.
funny story. well it's funny now. not so much when it happend (STORY OF MY LIFE BTW LOL)
so i was in search for the winter jacket or coat of my dreams. sometime in october last year i came across a fur gilet from Yves Salomon. it was everything that i ever wanted but i absolutely couldn't afford the 800euros price tag so i told myself ill keep an eye out for it during the winter sales. which by the way, came and went and the next thing i knew the gilet was sold out (even wayyyy before the sale). so those who know me know that once i have my heart on something, i rarely give up easily. so i searched the web for the gilet like a lost family member and traced it to a UK based site who despite the winter sale were selling them for 900 POUNDS. So i told myself, again, ok la. nda papa. i'll wait for the sales. Everyday after that i religiously followed the coat like a cult clicking on the website.. every frickin hour.
A few weeks later my heart skipped when i got an alert in my mail telling me that the price has dropped to 300 pounds. So naturally i ran to my wallet to get my credit card an attempted to make a purchase online……….which to my disheartenment did not go through because my bank thought it was a fraud site. when i finally managed to sort it out with my bank, the jacket was SOLD OUT. AGAIN. i was like ok lah i said to myself 'maybe it's not meant to be……' but at the same time didn't waste ANY time making another search for the item – which led me back to the original site that i originally had seen it on……. and to my surprise it was back in stock and was still going for 800euros. So ok after quickly playing out the justifications in my head:
1. because its winter.
2. inshallah ill be here for at least 2 more winters.
3. it's a statement/classic piece.
4.it's fucking yves salomon
i bought it!
2 days later it arrived on my desk.
My colleague happened to barge in to my room as i was opening my package and he asked me what it was.. and i was like..dengan BANGGANYA.. ku BAGITAU 'JEKET BULU BULUANZZZZZ, KELAAAAASSSSSS'. Skali ia tanya ' Bulu apa?' …dengan bangganya ku lagi ckp 'BULU RACOON SAMA PPPPPOXXXX (fox)'. the moment 'fox' escaped my lips.. i froze… my colleague went silent as if trying to process something. and suddenly, the same light bulb switched on over our heads… "Ji.." i said in a slow voice… "POX ani…bukan….kuyuk kah….. "
my colleague, after thinking about it for awhile and what came out like a whisper replied, 'aku pun baru teclick….awu…'
skalinya…. KIAMAT…
nda lah..haha Skalinya..teduduk ku sekajap menganangkan nasib ku. I have been eyeing the item since october..and in all those months i was waiting to get it i KNEW it was made of FOX FUR but for some reason.. it's religious sensitivities never resonated. It was only when i opened the box in front of my colleague that i realise… yang pox ani is actually family of d dox. I've consulted several other people on the subject and they all had differing views.
Acknowledging the gray area that surrounds it, i decided to let it go 🙁 huhuhu. mcm imagine ku be gilet gilet fox..tapi pakai tudong. hahaha. i mean i may as well be carrying a pig for a backpack. sigh. when it's not meant to be it's not meant to be. 10 days later.. I got my refund..all of it.. thank god! and i'm just going to save the money for a rainy day. i think someone up there is trying to teach me a lesson not to splurge on nonsense.
tapi ada jua baiknya i didnt get it off that UK website cause otherwise i wouldnt be able to return it. baik jua i was prepared to pay full price. lol.
yves salomon tah ku lagi.. SALMON tia karang. hahahaha.
membali baju sajuk seri gala saja ku…..
hahahahaha seri gala…lagi tia..big dox.
tekanang tah ku kan nini girl ku masa kami cuti ke Brisbane. she was at Cotton On going through a pile of tshirts to get for my Bushu.. when she suddenly turned to one of my cousins and pointed to the word FOXY on a shirt.. and asked her 'Lai, kan membalikan baju untuk bushu mu.. apa nya ni lai?.. FUCK YOU?' bless her.
next on my list..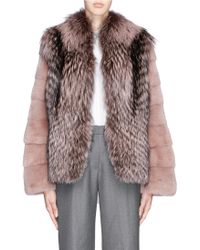 ani buleh. ani MINXXXXXXXXXXXXXX. 8000euro harganya dang…makaseh. no monies.
but in truth, i shouldnt want to wear real fur. But i dont understand the logic of paying the same amount for faux fur. Stella Mccartney does them in faux and i also know that the designer avoids using leather at all costs. tapi harganya mcm original materials.
baik kamu check sebelum membali.
ori inda ori one thing..tapi kalau ori tapi fox atu pun……………………………………………….dot dot dot.
i was talking to May when the subject of 'dot dot dot' came up..
'Perempuan, Isteri dan …' lol and May was saying, mau kan jadi controversial tapi JALANG/PELACUR atu pun takut2 kan menyabut. lol. hahahaha. kalau ku ngucapkan urang pun bisai tu..
kau ani ah sudah tah 'Bida… Ulah mu lagi mcm … DOT DOT DOT'.
rofl.
pox dox dan dot dot dot.
k bye